Number of Spanish marriages fall, unmarried mothers rise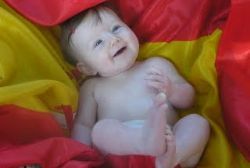 A recently published report undertaken by the National Institute of Statistics (INE) has revealled how a total of 35.5% of all children born during 2010, were given birth to by unmarried women.
This figure is 7.2% up on 2006, when it first began it's trend of gradual growth.
The number is slightly higher at 39.9% for Non-Spanish Mothers, falling to 34.4% for Spanish nationals.
This statistics correspionds with the observation that the total number of marriages taking place in Spain is falling, with 5.7% less marriages taking place in the first half of 2011 compared to the previous year. The fewer marriages taking places are also much more likely to be civil weddings as opposed to religous, with half as many church celebrations being held last year.
The average ages of those getting married has also increased over recent years and currently stands at 36 years old for men and 33 years old for women.
A total of 230'000 babies were born in Spain in the first half of 2010, a decrease of 1.1% on the same period in 2010.