Further Public Sector Protests in Barcelona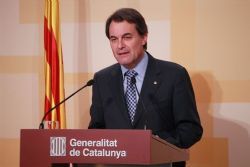 Following on from last week's news, which reported Catalan Police in Protest over spending cuts to public service, last night the action spread to other members of the region's public sector workers.
Protestors made up from Firemen, Policemen, Teachers and Healthworkers surrounded a number of regional government buildings, throwing eggs to vent their anger at the cuts to public spending imposed on them by the Generalitat.
The Generalitat regional government estimated as many as civil servants were involved 11,000, while the unions put the number at as many as 30,000.
Ironically, 30 vans full of Mossos d'Esquadra regional police were called in to protect the building from the protestors, some of whom were their colleagues.