Government may criminalize regional overspending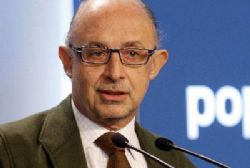 Spain's Finance Minister, Cristobal Montoro, gave an interview earlier this week, saying how the Government planned to make it a criminal offence for the regions to surpass their budget targets.
Plans to add the crime of 'Profligacy' to the existing Public Sector Transparency Law. "We will demand criminal responsibility of public sector managers, whether they be politicians or people named by politicians," he said.
The new PP administration has made it a priority to getting the country's public finances back in order, due to the country exceeding its deficit-reduction target last year of 6% of GDP by two full percentage points, largely as a result of the failure on the part of cash-strapped regions to rein in their spending.
"If a government wants to spend more then it can hike taxes," Montoro said. "There can't be a lack of transparency nor the accumulation of debts that become unpayable."
The Minister also announced a number of measures to help ease the financial problems of the regions, which include extending the deadline for repayment term of the collective 31 billion euros borrowed from central government from 5 to 10 years. Central Government will also make eight billion euros to the regions aswell as extending a line of credit to help them pay suppliers.