INE report falling Spanish life expectancy rate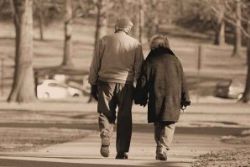 Spain's National Institute of Statistics (INE) has reported how the average life expectancy for those living in Spain fell between July 2010 to June 2011.
Although the decrease was negligible - a dop of just 0.8% - it was significant due to it breaking a trend of increasing life expectancies going back almost 50 years.
"Although we are talking about a drop of hundredths, possibly irrelevant in principle, you have to pay attention to the fall, because it breaks an almost 50-year tendency of rises in life expectancy," said demographer Albert Esteve of Barcelona's Autónoma University.
The average life expectancy for men fell from 78.94 years in July 2010 to 78.87 in June 2011, with the average fow women falling from 84.91 to 84.82.
The combined average for both sexes fell from 82.67 to 81.87 over the same period.
The INE suggested that the changes may be due to the influence of adverse weather conditions.