Unions express concerns over AENA control of private airports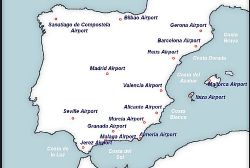 The main trade unions representing AENA employees have expressed their relief at recent news issued by the Ministry of Public Works, that Madrid's Barajas airport and Barcelona's El Prat airport will no longer be sold off to private consorta, and will be kept within the AENA network of 47 publically-owned airports.
The Unions representing the 10'500 AENA Employees (excluding 2'500 Air Traffic controllers) including the CCOO, UGT and USO now wish to meet with Ana Pastor, the Minister of Development, to express their concern at the 'unconfirmed' reports that the public entity may be about to absorb the 'problematic' privately owned airports of Ciudad Real and Castellon, together with the airport of Corvera in Murcia.
Despite being privately owned by concessionaire holder, Aeromur, AENA will take an on responsibility for the management and operation of Corvera as part of the compensation deal for their having to close nearby San Javier airport.