Expats 'Happiest of all in Spain'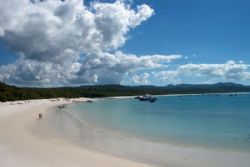 A recent study commissioned by Lloyds TSB Offshore has concluded that Expats who have relocated to Spain are happiest of with their lives.
The report surveyed more than 1'000 British Expats who had relocated to the 10 most popular locations, to aks their opinions on a range of issues ranging from the cost of living, to their level of happiness in their new home country.
More than two-thirds of all participants in the survey were happier with their new lives, but three-quarters of those living in Spain admitted that they were happier now than when they lived in the UK.
In spite of the financial difficulties that the country is struggling with, over 70% of Expats still considered themselves better off financially in Spain than the UK, with as many as 80% considering there to be a ower cost of living.
Two key factors in how well an Expat adapts to their new home - be it Spain or anywhere else - is undoubtedly the preparation and research made before undertaking such a move, together with the overall expectations for their new lives abroad.