New Paradores to Open later this year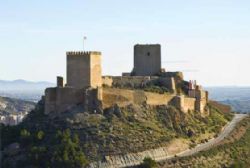 The Spanish Tourist Board has announced how the state-owned chain of Hotels is set to exceed 100 in number by the end of 2012.
These Hotels - known as Paradores - are owned and supported by the government and provide affordable accomodation - often in area that will benefit from the employment opportunities brought by tourism, and utilising restored historic buildings that would otherwise be left to ruin. Each Parador has a strong local identity and promotes local cuisine and uses local products and services wherever possible.
A total of 5 new Paradores are currently under construction and expected to be open for business later this year : Lorca (Murcia), Morella (Castellon), Corias (Asturias), Veruela (Zaragoza) and Ibiza (Balearics).
A further 9 Paradores are currently in the architectural planning stage : Muxia (Galicia), Villablino (Leon), Cadiz, Estella (Navarra), Badajoz, Lleida, Molina de Aragón, Béjar (Salamanca) and Alcalá la Real.
The Government has recently been reviewing their shares in the likes of AENA (the Spanish Airports Authority) and the State Lottery, whose management is shared between the Ministries of Finance, Development and Industry. Earlier this week the Minister of Industry, Tourism and Energy, José Manuel Soria, did not rule out that the state-owned Parador network may be also be privatised.