NH Hoteles seeks debt refinancing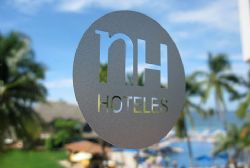 Spanish hotel group NH Hoteles said on Thursday it asked creditor banks to back a near-term debt refinancing ahead of a 195 million euro payment on a syndicated loan due in a month's time.
The group, which operates some 175 hotels at home and more than 225 abroad, said it hoped banks would soon agree to a five-year refinancing of the 650 million euro loan, which was taken out in 2007.
It said it would also sell unspecified assets worth less than 300 million euros.
The group targets mainly business travellers but also draws revenues from Spain's tourist industry, which enjoyed a bumper year in 2011, when visitor arrivals rose 8.1% to 56.9 million in 2011, according to government data.
Industry Minister Jose Manuel Soria said last week tourism growth would slow sharply this year as the economic downturn hits some of the country's key foreign markets.
But company chairman Mariano Perez told journalists on Thursday he expected European tourism markets including Spain to grow by 3-3.5% this year and Latin America, where the group also has a presence, in double digits.
"The outlook for the industry is looking up. The start of the year has been a positive surprise," he said.
NH Hoteles declined to comment on a newspaper report it is interested in buying the more than 90 state-owned heritage hotels known as 'Paradores', which Soria said the government was looking into privatising.
The firm's shares were up 4.4% at 2.48 euros in late trade.