Drug Smugglers convicted after posing as Pilots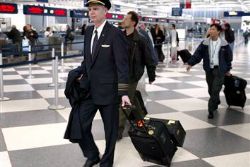 Alicante's Provincial Court has sentenced to men to seven years in prison for posing as pilots in order to by-pass security controls at Madrid-Barajas airport to smuggle cocaine from Venezuela.
A further two members of their gang were also sentenced to eight and four years imprisonment for crimes against public health, and for assisting the 'Pilots' in their illegal activities.
The court hearing has so far charged four of the eleven defendants who are were arrested following the seizure of around about 13 kilograms of cocaine in a house search in Benidorm (Alicante), where security passes for Ryanair, Air Europa and AENA were also discovered togther with smaller amounts of other illegal drugs.
The investigation found that one of the accused Jose Antonio HP, was actually a Ryanair flight attendant, who had two suits made for him and an associate, which would allow him to by-pass strict security controls at Barajas airport.
The investigation goes back more than two years, when police first began investigating Antonio's associate, who received 20,000 euros for each of his smuggling trips.