New AENA President tasked with Corvera negotiations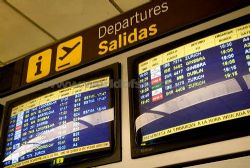 Following his appointment yesterday as the new President of AENA, Jose Manuel Vargas personally attend to negotiations with Aeromur and the regional government of Murcia with regards to the future of Corvera International Airport.
The focus will be on the transfer of all civilian operations from San Javier airport to Corvera, together with airport employees, and to negotiate an acceptable compensation package for AENA in light of the recent expense they have incurred at San Javier, which will be returned to the Military.
AENA has initially claimed as much as 70 Million Euros in compensation for them to step aside from San Javier airport in favour of Corvera. The sum was calculated based on their expenditure at the airport in recent years on projects such as building a second runway, developing the terminal building, and extending the car parking area.
However, it is understood the AENA were invited to take an active role at the new airport, to be privately owned by Aeromur, yet operated and manged by the publically owned entity - the first airport of it's kind in Spain. This arrangement has lessened the amount of compensation to be paid to AENA, but it remains to be seen by how much.
Aside from the issue of Corvera, Vargas will be tasked with the issue of privatising the AENA network.