Mayor cites Corvera and Paramount as reasons to attract cruise ships to Cartagena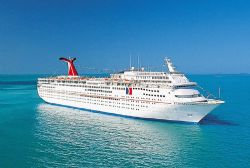 The imminent opening of Corvera International Airport will be a significant factor for the region of Murcia and the port of Cartagena in formulating a stratgy to become a destination for cruise ships to start and end their voyages from.
The national and international connections at Corvera, together with the road and rail infrastructure between the airport, Murcia and Caratagena makes the port an attractive destination. The thousands of Hotel rooms already available in the region, together with those already planned on the back of the Paramount Pictures thenem park project at nearby Alhama de Murcia, allow tour operators to accomodate large numbers of holidaymakers with convenience.
Other attractions, such as the new shopping centres and the Paramount theme park, will add to the appeal of Murcia for many visitors to the region.
The Mayor of Cartagena, Pilar Barreiro, has put her support behind the promotion of the redevlopment of a number of old hotels needed move the project forward. She has also stated that the port becoming a base for Crusie ships would be an enormously boost for the economy and employment in the city.
However, Cartagena will have to overcome competition from nearby Alicante who can already offer many of the same facilities.