Survey shows Brits prefer to holiday in Spain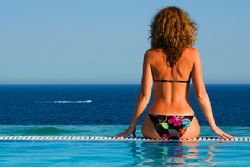 One-third of all British tourists prefer to holiday in Spain, according to a report released earlier today by airline Jet2 and their package holiday service Jet2.comHolidays .
The report, "What's Hot in 2012", surveyed over 1'000 British holiday makers and found that 28% of them consider taking a vacation as being vital to their health, with 1 in 3 of them preferring to choose a location on the Iberian peninsula to catch some sun. Among the top sites for British visitors are Malaga, Palma de Mallorca, and the Costa Blanca.
This is undoubtedly beneficial for the Spanish tourism industry, and follows a recent run of similar good news. Earlier this month the Minister of Tourism confirmed how some 57 Million foreign tourists visited Spain during 2011 - the 4th best since records began and a much needed 8.1% imrovement on the previous year. Similarly, a recent report by Post Office money noted how Spain represents the best value for money holiday destination in Europe , coming second in the world as a whole.
Aside from being good news for those involved in the tourism industry, this good represent a much needed boost for those with resale properties on the market.