Human Rights Organisation Criticises Spanish Police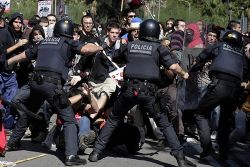 There was "excessive use of force by Spanish police" in dispersing lthe os Indignados protestors over the course of the summer of 2011, according to Human Rights Watch, in their annual report.
The organisation cited "credible reports" about the actions of the police in Madrid and other Spanish cities concerning their treatment of the thousands of protesters who took to the streets as part of the los Indignados / M-15 movement.
HRW also noted that there had been "accusations of excessive (police) force" at a protest against the visit of Pope Benedict XVI for the opening of the Catholic World Youth Day in Madrid last August.
However, on a positive note, the organisation praised some of the new immigration regulations approved last year, such as guaranteeing undocumented immigrants that they will not be deported immediately when they report incidents of domestic violence.
The annual report also breifly touched upon the reform of a number laws concerning the treatment of terrorists, specifically mentioning the ceasefire of "violent Basque separatist group ETA."