Vueling project growth for 2012, compete against Iberia Express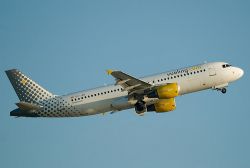 Spanish low-cost airline, Vueling, is projected to grow significantly over the course of 2012 thanks to the establishment of a number of new routes.
The airline, which is 46% owned by Iberia, last saw growth as significant as this when they assumed control of Click Air, then owned by Iberia and which resulted in the issue of shares in lieu of payment.
The focus of the growth is centred around Barcelona's El Prat airport, which saw a 17% year on year growth for 2011.
Perhaps coincidentally, Vuelings growth for 2012 is projected to be 17% and is to be acheived by the introduction of a further 10 routes to and from the airport, bring the total up to 70, and basing a further five aircraft at the hub.
Of these 10 new routes 3 are domestic ( Almeria; Lanzarote; San Sebastian ) and 7 are international, including to Edinburgh and southampton in the UK.
However, Vueling's growth at El Prat has been noted by it's decline at Barajas and it of note that Iberia's growth at Barajas has coincided with their slight decline at El Prat. Clearly an arrangement between the two companies given their close relationship, but it leaves the question "Where will Vueling stand following the creation of Iberia Express ?".
Even if there is room in the market for yet another low cost carrier, does it make sense for one IAG low cost carrier to compete against a second one (or even a third one, if you include Iberia-Franchisee : Air Nostrum ?)