First Iberia Express Flight Scheduled for 25th March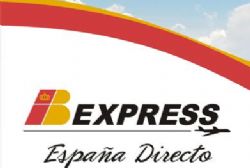 The President of International Consolidated Airline Group (IAG) has announced how the first flight of Iberia Express has been scheduled for the 25th of March.
Antonio Vazquez was addressing the New Economic Forum in Madrid where he told delegates how the new low cost airline was necessary in tackling increasing competition from both other budget carriers, and the establishment of a number of high-speed rail links across spain.
However, the move is proving to be unpopular with their workforce, with members of the SEPLA pilots uion in particular holding a series of disruptive strike dates in protest over what they see as a threat to their positions.
Vazquez also spoke of the importance of developing long, medium and short haul flights from their base at Madrid-Barajas, and it perhaps interesting how Vueling - another IAG subsidiary airline - has 'stepped aside' at Barajas to help bring this about.
The financial impact that 2012 has on IAG will also be affected by fuel costs - which currently represent one-third of the company's costs compared to one-tenth a few years ago - together with their plans to purchase BMI.
The news prompted an increase in IAG share prices from 1.98% to €2.056, hoever, strike dates for the 25th, 27th and 30th of January remain in place.