El Hierro : Earthquake Update 22nd January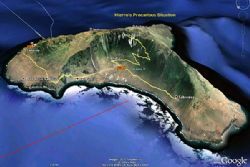 Scientists from the National Geological Institute (IGN) who have been observing seismic activity on the Island of El Hierro as part of the earthquake swarm, which began on the 17th of July last year, have recorded a total of 7 earthquakes over the last 10 days.
A total of 4 of the activities took place between Frontera and Pinar in the centre of the Island and measured magnitudes of between 1.6 to 2.5 on the richter scale, and at depths of between 10 to 16kms.
The 3 activities registered in the wider proximity of the Canary Islands occurred in the stretch of water between Tenerife and Gran Canaria and measured between 1.9 to 2.1 on the richter scale.
Although seismic activity on and around the Island has slowed considerably since early December, and it is debatable whether recent earthquakes should be considered as part of the 'swarm' which began on 17th July or not, the number of activities recorded since that date are now well in excess of 11'000.
However, the volcanic activity off the southern coast of the island tells a different story, and those interested may wish to click Here to read about recent developments.