Corvera demands increase in Taxi numbers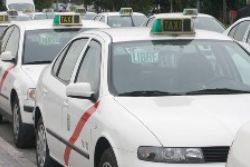 The National Institute of Statistics has revealed figures reporting on the state of public transport in the country.
As far as the Region of Murcia is concerned, the report revealed how there are currently 867 licenced Taxi cabs operating in the region, compared to 944 in 1994, representing a decrease of 8%.
The majority of these licences have been largely distributed between the 3 cities of Lorca, Cartagena and the capital, Murcia, which alone has 290 licences. This figure has remained unchanged since 2006, where it had previously been set at 280.
Therefore in the last decade just 10 new licences have actually been awarded, and this is something which the industry is being pushed to address. On one hand the recent downturn in the economy has led to a fall in demand, with drivers having concerns that there will not being enough business to sustain existing licence holders. On the other hand, the anticipated demand for Taxi's following the opening of the new airport at Corvera has prompted calls for further licences to be issued.
Traditionally this would mean the local Ayuntmiento - in this case Corvera - issuing the required licences - however, given the proximity of the city and the likelihood of it being a popular destination, Murcia is also expected to issue a number of licences to fulfil expected requirements.