Fabra called upon to clarify situation at Castellon airport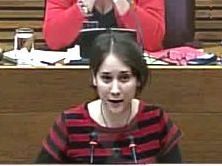 Marina Albiol, a member of the Valencia Parliament and long time opponent and critic of Carlos Fabra, has called upon the former President of the province of Castellon to clarify the situation between the Generalitat Valenciana and Aerocas.
Fabra is currently also the President of Aerocas, who holds the licence to operate the hugely contraversial Castellon airport.
Albiol specifically referred to the contradictory statements made this week between Carlos Fabra and the Valencian Regional President, Alberto Fabra, on the future of the airport, with the later indicating that an external party may be interested in buying the facility.
Albiol urged the two to agree on a commpn position and to put aside the previous lack of coordination between the (Regional) government and Aerocas becuase "we are talking about a facility that has cost more than 150 million of public funds" and the poor management of the situation is doing little to help the image of an airport that has neither planes nor passengers.