Government calls an end to AENA privatisation process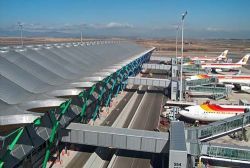 The Central Government of Spain has called a halt to plans to privatise Madrid-Barajas and Barcelona-El Prat airports and will return the private capital invested to date in AENA - the Spanish Airports and Navigation Authority.
However Ana Pastor, he Minsiter for Development, has not ruled out a privatisation of the airports altogether - just a suspension until the recovery of the economy represents a better deal for the nation.
Recent figures showed how AENA returned to profit in 2011 , making a total of 16 Million Euros before Taxes - something not expected to be seen until 2017.
The previous PSOE administration under Jose Luise Rodriguez Zapatero first implemented, later to postpone the measure by 3 months. The official reason given was to allow potential investors more time to raise the required finances, however the timing of the decision - which was made just a week before the country went to the polls to vote in a new government - must have been more than jus coincidence.
The revised deadline was then re-set for 31st January, however will now pass without tenders to run the airports being submitted.
The minister announced that the government is now studying a new management model for AENA, to increase the value of the company that has decreased over recent years, before considering a privatisation of some kind in the future.