Catalan Travel Agents Claim Damages Over ATC Strike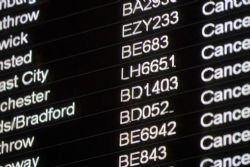 The Catalan Association of Travel Agents (ACAV) have filed a legal case against air traffic controllers, AENA and the Ministry of Development over the wildcat strike by ATC's over 12 months ago.
The strikes of December 2010 forced the closure of Spanish airspace before the military could assume control, and resulted in da number of cancelled flights and delays in excess of one week.
The association is claiming damages of 1.3 Million Euros.
Friday last week marked the deadline by which ACAV should have received a response concerning their initial complaint, however as no such response has been forthcoming the association has decided to move forward with legal action.
The damages sought are understood to be in compensation for the member companies as opposed to for the consumer, due to commissions being lost when flights had to be cancelled and ticket prices refunded.
To date there has been cases brought to court by a collection of passengers against AENA and the ATC's, which have been rejected due to the strike falling outside the control of AENA. However, the industry association believes that it will have a better chance of success and has just 1 month in which to make it's case.