SEPLA Cancel Air Europa strikes, Iberia strikes continue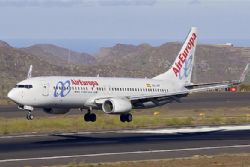 The SEPLA Spanish Pilot's Union have confirmed that the strike action by Air Europa Pilots has now been called off.
Strike action began on September 22nd and continued every Monday and Thursday 'for an indeffinate period', which up until this week, had resulted in 35 days of action.
The strike, which saw scheduled flights being reduced by no more than half on all strike dates, as dictated by Spanish law, was supported by 96% of the airline's 500 Pilots. The strikes were called in protest over the airline's 'cooperation' with Portugal's Air Orbest to share a number of services, causing Pilots to be concerned over potential job losses.
SEPLA took the decision to call a halt to the strike action following a statement by the Director General of Air Europa, Maria Jose Hidalgo, appealing for it's cancellation due to the difficult times the industry was currently facing.
Meanwhile, SEPLA Union members of Iberia Airlines are proceeding with their strike dates planned for the 25th, 27th and 30th of January, which is expected to result in the cancellation of 289 flights.