Spain concerned over Scotland's bid for independence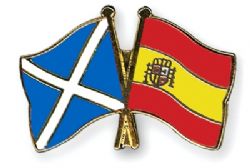 The UK is trying to play down EU concerns that the issue surrounding possible independence for Scotland could set a dangerous precedence for similar action throughout other member states.
Madrid is particularly concerned that, if the 2014 referendum in Scotland is successful, it could trigger similar demands in the Basque country and in Catalonia.
Whilst UK diplomats are believed to have been instructed to reassure their Spanish counterparts that the issues are completely different, a number of sources have reported that Madrid is threatening to veto the measure. Spanish Foreign Minister, Jose Manuel Garcia-Margallo has denied this, and stated how the country would remain neutral in Scotland's bid for independence.
Giles Paxman, the British Ambassador to Spain issued the following statement: "We need to step up our efforts to explain why that debate is being played out in different circumstances and why the search for a legal, fair and decisive resolution to Scottish pressure for greater autonomy need not be a threat to Spanish territorial integrity."
Significantly, the Ambassador noted that "Spanish concerns should not, of course, influence the course of the constitutional debate in the UK."
A number of other countries are keeping a keen eye on the situation over fears that it could spark a wave of independence bids from minority groups - a number of member states still do not recognise Kosovo - Spain being one of them - over fears that it would give the green light to nationalists at home.