AENA confirms work at airport will continue - despite imminent closure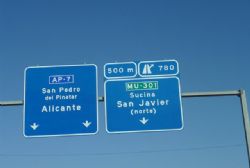 Further to the comments of the spokeman for Murcia's UPyD party yesterday, criticising the recent reform at San Javier airport , AENA has confirmed that they have been unable to call a stop to the works, despite the imminent closure of the airport and transfer of all staff and operations to nearby Corvera airport.
The work which is currently in process includes a reform of the terminal building and is due to be finalised by February of 2013 - possibly as much as 6 months after the closure of the airport to civillian traffic.
At no time, and at not stage in the on-going negotiations between AENA, Aeromur and the Regional Government, has AENA so much as considered the possibility of stopping the works.
The contract to undertake the works was awarded in June 2010 and in August 2010 work began on the expansion of the terminal, which AENA deemed to be crucial in allowing the airport to operate at a higher capacity.
AENA confrimed that "the agreement for the possible closure [of San Javier] was signed in November 2011" when the works were already underway. "They will end as scheduled, regardless of whether there is an operational airport there in the future".