Safety questions over Castellon airport runway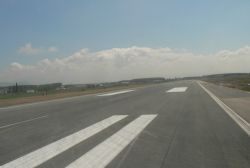 The hugely contraversial Castellon airport and it's privatel owners, Aerocas, have not been far from the headline over previous weeks - firstly, attracting criticism for spending 30 Million Euros on advertising an airport with no scheduled flights , and secondly for the trial of the company's President and Ex-Provincial President, Carlos Fabra, on charges of corruption.
However, it seems that now the actual safety of airport it being called into question.
A report by the College of Aeornautical Engineers prepared in 2005 has been brought to light that shows how the oreintation of the runway exposes it to risk from strong gusts of wind, and should be changed.
A number of resources and professional bodies consulted by the report agreed that the direction of the runway should be changed, and this was also endorsed by the Ministry of Public works. The International Civil Aviation Organization agreed that the winds could be unpredictable, which would make the runway dangerous to use.
The report and it's findings were largely ignored by Aerocas and both Insurers and Unions have warned about the criminal liability that may be forthcoming if any flight should be attempted to or from the runway in it's current state.
Furthermore, Environmental groups warn that there simply isn't the space available at the airport to change the direction of the runway, and that the potential impact any such changes may cause could have been lessened if the original report had been followed. They have joined the long list of those calling for charges of criminal negligence to applied to the management of the airport.