Spain to manufacture folding electric vehicle in 2013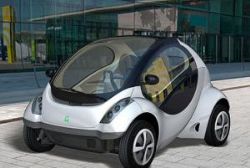 A car thet can fold itself for ease of storgage, and to make the most of smaller parking spaces, is expected to be produced in Spain as early as 2013.
The electric vehicle, which will cost around €12,500, will have a single door at the front of the vehicle similar to the iconic bubble car of the 1960's, and will feature a joystick instead of a traditional steering wheel.
The 'Hiriko' was unveiled earlier this week in Brussels and is the result of a partnership of Basque businesses, the Spanish government - through a grant of 15 Million Euros - and the MIT Media research company from the USA. A number of vehicles will be tested over a trial period in a number of cities throughout Europe later this year - including Bilbao in the Basque Country - and the USA before being put into production at a facility in Vitoria-Gasteiz in 2013.