BA Profit 750mln, Iberia lose 220mln in 2011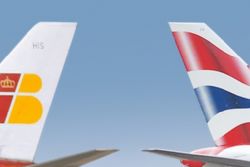 Accountants preparing the year-end figures for IAG and their two partners, British Airways and Iberia have revealled a startling contrast between the two airlines.
According to US Investment Bank, Citi, Iberia will end 2011 with €220 Million of operating losses, whilst BA turned an operating profit of €750 Million - meaning that for every €1 that Iberia lost, BA made €3.40.
The final figures are not due to be returned until February, however Citi estimated that the IAG group as a whole will retun an overall profit of €530 Million for 2011 - up 3.3% on 2010.
A poor end to 2011 and even worse start to 2012 does not bode well for Iberia, with on-going strikes by members of the SEPLA pilots union in protest over the creation of the Iberia Express budget airline brand.
IAG deem this to be essential in competeing with budget airlines on short and medium haul flights, and to ensure that they can provide a competetive 'feeder link' to hub airports for their long haul flights.
However, critics of this argue that it will result in job losses at Iberia, and that IAG's CEO, Willie Walsh, is simply turning Iberia as whole into a low cost division of IAG, with BA remaining the flagship carrier.
The on-ging strikes by Iberia Pilots, the uncertainty of the success of Iberia Express, the possibility of rising fuel prices and the pending purchase of BMI all make 2013 a difficult year to forecast.