Spain's Unions agree on wage limitations until 2014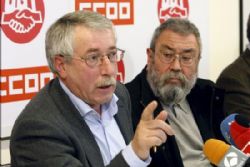 Spanish workers unions, led by Ignacio Fernandez Toxo from the CCOO, and Candido Mendez from the UGT, have met with the Chairmen of the CEOE and CEPYME Employers associations, to find a new agreement on collective work contracts and wage limitations which will last until the end of 2014.
A common agreement has been signed between all parties, which allows a limitation on wages as many small and medium sized business are expected to struggle in the coming year, as the national economy faces a slide back into recession.
The agreement is centered around a maximum wage rise of 0.5% being applied to employees salaries in 2012, rising to 0.6% in both 2013 and 2014, but only in the event of official inflation estimations being expected to rise beyond 2.0%.
An even higher increase has not been ruled out for 2014, providing that the economy of the country improves sufficiently in 2013.