Spain to clamp down on regional spending in new law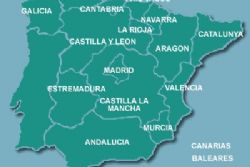 Spain will embark on a budget clampdown on its overspending regions on Friday, unveiling reforms that will usher in tougher oversight of their accounts and possible penalties for those that continue to live beyond their means.
The draft law - the first in a trio of initiatives in coming weeks also covering the banking sector and the labour market - aims to guarantee budget stability across Spain's whole public sector, increase confidence in the economy, and strengthen the country's commitments with the EU.
However, it is unclear when the news rules, which will give overspenders a year's grace to get their fiscal houses in order, will come into effect, or how tough the penalties will be.
The task is a huge one after two years that have seen the 17 regions, which account for around a half of public spending and control their own budgets for health and education, miss their spending targets by a wide margin.
They likely ran a deficit at least double their target of 1.3% of GDP in 2011, according to government estimates. Full details of central and regional accounts will be presented in March.
The estimated overshoot - equivalent to around 15 billion euros - was a significant factor in Spain missing its overall deficit target for last year by around 2 percentage points.
As it tries to avoid being sucked deeper into the euro zone debt crisis, Spain is now hoping the European Commission will allow it to soften this year's overall target of 4.4% of output, taking into account a sharply deteriorating economic backdrop and surging joblessness.
PENALTIES FOR OVERSPENDERS
Treasury Minister Cristobal Montoro said on Thursday the new budget law would set penalties for regions that consistently overspend, based on corrective measures used by the EU.
It will also establish an early warning system for monitoring deficit targets that might be missed, and give central government administrators the right to evaluate regional accounts, he said.
By an as yet unspecified date, each region will have to balance its books under all but exceptional economic conditions.
In return, regions facing liquidity strains will get help with managing cashflows, the government has said.
As well as bringing the regions into line, the government faces another potential fiscal stumbling block in the shape of its banking system, weighed down by fallout from a property market that collapsed four years ago.
Madrid has consistently denied public money will be used to shore up the banks, but the jury is out as to whether the government can dispense with resorting to public money and adding to its sovereign debt.
The government is due to unveil its plans for overhauling the financial sector in mid-February.
It is likely to force lenders to price and provision for the billions of euros of foreclosed property and unrecoverable loans to bankrupt developers that are clogging up lenders' balance sheets, preventing the flow of credit.