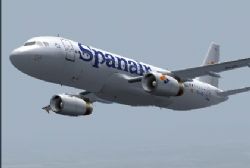 Troubled Spanish Airline, Spanair, announced that it would cease trading on Friday after the arrival of it's last flight.
The airline was already in financial difficulties when in 2008 one of their flights between Madrid and the Canary Islands crashed on take-off, resulting in the worst Spanish avitation accident in recent decades.
The regional government of Catalonia, who had been investing heavily in the airline, found that it was no longer viable to support the airline in light of increasing competetion from other low cost carriers.
The airline advised those who had purchased tickets to travel to check the website for further information, however earlier this evening the website simply read 'not available' .
The Ministry of Development have called upon the airline to fulfil it's obligations to those who had purchased tickets.