Friday's Pilots strike causes disruption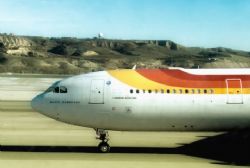 Dozens of passenger flights were disrupted yesterday, leaving thousands of passengers stranded as a result of the latest Pilot's strike by Iberia.
Iberia Pilots, members of the SEPLA Pilots Union, held their second day of strike action this week - the 6th day of action in recent dispute - which resulted in the cancellation of 94 of their scheduled 277 domestic flights.
Pilots are striking due to their concerns over the creation of a new low cost airline - Iberia Express - in order to compete against other budget carriers for their short and medium haul flights.
Earlier last week Antonion Vazquez, the Chairman of Iberia Airlines, announced that the first flight for the new Iberia Express subsidiary would take off on the 25th of March.
A further day of strike action to be held on Monday 30th January is expected to cause similar leveles of disruption.
Although unions representing the Airline's cabincrew and groundcrew employees voted not to join the strike action, the Pilots are threatening to continue their action on every Monday and Friday in February.