22'000 passengers affected by Spanair collapse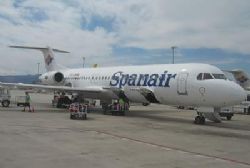 The disruption caused by the collapse of Spanair on Friday night has resulted in the immediate cancellation of 220 flights, and has left 22'000 passengers with no means of travelling with the tickets that they have purchased.
The collapse has prompted the Minister of Development, Ana Pastor, to commence legal proceedings which could result in the investors behind the airline being fined up to €9 Million due to ibreaches of aviation security regulations.
Spanair's chairman, Ferran Soriano, said the airline had been unable to secure investment and as such the Generalitat of Catalonia decided to stop financing them. Spanair, whose hub was Barcelona airport, employed around 2,000 people and used the services of about 1,200 ground staff.
Other carriers, including Ryanair, Easyjet and Iberia are offering specially discounted tickets, subject to availability, to enable passengers stranded by the collapse to return home.