Protestors gather at Castellon airport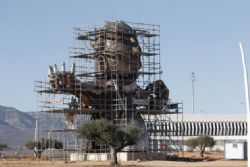 Castellon's contraversial 'white elephant' airport has once again been making the headlines in Spain.
The airport, which has just spent €30 Million on advertising, €300'0000 on a 25mt bronze statue of the airport's president, Carlos Fabra, and €300'000 per month in costs, has not welcomed one single flight since being inaugurated last year.
If that were not enough, just last week it was revealled how there were a number of saftey questions over Castellon airport runway which made it unlikely that any aircraft would be allowed to take off or land from the airport unless significant and costly changes were made.
This symbol of waste, inefficiancy and over-spending has now become a figurehead to many of those effected by cuts to public spending imposed by the Generalitat Valencia - the most indebted of all Spain's regions, where the Province of Castellon is located.
Yesterday more than 200 teachers held a protest over cuts to the education system at the airport , which is expected to play host to a second protest rorganised by the unions next weekend.