EU opens door to softer Spain deficit target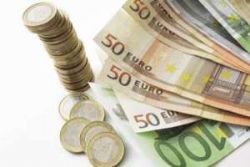 The European Commission opened the door on Monday to a possible softening of Spain's budget deficit target, reflecting widespread acknowledgement that the current goal is near-unattainable.
Prime Minister Mariano Rajoy, who has raised income taxes and made spending cuts since being elected in a landslide in November, has pledged Spain will meet its fiscal commitments, which as they stand involve cutting the deficit from an estimated 8% of economic output to 4.4% this year.
But as the country tumbles towards recession he has moved to persuade Brussels to allow the target to be adjusted once the European Commission publishes new - and certainly lower - growth forecasts for 2012 on Feb. 23.
A softer target would take account of the need for Spain, the euro zone's fourth largest economy, to stimulate growth as well as reduce spending.
"Efforts should be made to contain the deficits for 2012," European Commission President Jose Manuel Barroso said at a joint press conference with Rajoy in Brussels on Monday.
"However, it would be convenient now to have a discussion, which should take place at the Eurogroup and Ecofin, about this situation.
"I can't give you any detail on this. There will be a discussion about the conditions," he said. "The (fiscal) consolidation should take place as much as possible without leaving aside growth, guaranteeing for instance spending, which can contribute to stimulating it."
STEP-BY-STEP LEEWAY ?
Barroso said euro zone finance ministers - who next meet on Feb. 12-13 - would have to work on the issue, adding that Spain would also have to provide more detail on the structural reforms it intends to implement and the timeframe for doing it.
At the news conference, Rajoy said Spain would not be able to meet its existing growth target for 2012, but did not provide any details about what that would mean for the budget deficit goal.
"We're going to present a new macroeconomic framework, but the current one says that we'll have GDP growth of 2.3% this year, these are the last macroeconomic projections in Spain, but it is evident that it won't end up like this," he said.
The Bank of Spain expects the country's economy to shrink by 1.5% this year.
Spanish officials have privately floated the idea of Madrid being given step-by-step leeway on its deficit target in return for implementing specific economic reforms, but a senior EU official said that was not the way that the EU rules worked.
Last Friday, Spain unveiled reforms to toughen the oversight of public accounts and impose penalties to overspending regions.
The new centre-right government is also putting the finishing touches to an important reform of the labour market and said on Monday it would pass this week a decree on further restructuring the country's banking system.