Santander 2011 net profit down 35 pct on provisions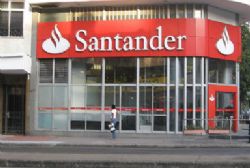 Spain's Santander reported on Tuesday 2011 net profit of 5.35 billion euros, down 35% after the group took extra provisions against deteriorating real estate assets.
The euro zone's biggest bank became the latest Spanish lender to announce it would set aside capital to cover its exposure to the property sector ahead of expected government demands for banks to ramp up provisions.
The bank said it would set aside 3.2 billion euros in extraordinary provisions - of which 1.8 billion euros would allow the lender to raise its coverage for foreclosed Spanish property assets to 50% from 31%.
Recurring net profit was 7.02 billion euros, 14% less than in 2010 and in line with analysts' expectations, Santander reported. Net interest income, what a bank makes on loans minus what it pays out on deposits, rose 5.5% to 30.8 billion euros.
Unlike weaker domestic players, Santander can absorb greater provisions thanks to thriving businesses outside Spain. Spain accounts for less than 10% of group profit. Latin America, led by Brazil, contributed more than half of group profit for the first time in 2011.
Bad loans as a percentage of total loans rose to 3.89% from 3.86% at end September.