Campaign for Madrid 2020 Olympics underway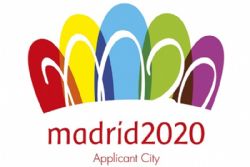 Despite having the highest levels of unemployment in Europe, and having one of the sickliest economies, Madrid yesterday launched their campaign to compete to host the 2020 Olympic games.
Other cities expected to submit their bids to the International Olympic Committee (IOC) by the February 15 deadlines are Tokyo (Japan); Baku (Azerbaijan); Doha (Qatar); Rome (Italy) and Istanbul (Turkey).
Although Madrid has not yet spoken of costings, Rome has estimated a cost of around €12.5 Bln to host the games.
The Mayor of Madrid and President of the Spanish Olympic Committee unveiled the logo for their camapaign yesterday, which was chosen from a range of submissions in a competetion and eventually won by Luis Peiret, a 22 years old graphic design student from Zamora.
El Pais has reported how the contraversial logo is unpopular with 81% of Spaniards, with many of them reading the logo, which is intended to be a re-working of the 5 Olympic rings, as "20020" as opposed to "2020".
Madrid is hoping that this fourth attempt to host the games in 2020 will be successful, after failures in bidding for the 1972, 201 and 2016 games, and will follow the success of the Barcelona games in 1992.