Santander, BBVA close commodities trading desks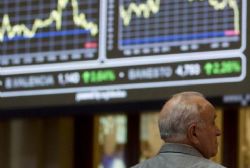 Spain's two largest banks, and Santander and BBVA are closing their commodities trading units to focus on core business, a spokesman and a source said, which will lead to about 15 job losses in all.
A BBVA spokesman said 14 people worked at its commodities desk. That compares with 104,000 on its payroll in more than 30 countries. "This really is a tiny operation, out of which seven with a bit of luck we'll be able to relocate, and it's part of adjustments announced in December," he said.
A bank source said the commodities desk at Santander - the euro zone's biggest bank - employed 13, of which five would be reassigned. Santander employs about 180,000 people in more than 20 countries in Europe, Latin America and Spain.