Barcelona Chief of Police in Court over M-15 Violence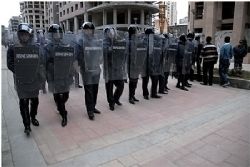 Barcelona's Chief of Police, Joan Carles Molinero, has been called to court to testify as the defendant over the forced eviction of the 'Los Indignados' protesters from Plaza de Catalunya on May 27th of last year.
The courts have already ascertained from previous testimonies that it was Molinero who co-ordinated the action.
More than 100 protestors were injured when the Catalan Police took action against the protestors to force them out of the square, with their blocking access to cleaning crews being given as the official reason.In response a small number of the protestors - part of the 15-M movement against political corruption and economic mismanagement - refused to move and as such violent and forceful action was taken against them.
The investigating judge has requested transcripts of the conversations held between police headquarters and officers at Plaza de Catalunya. The actions of the city's former security deputy, Assumpta Escarp, and the head of riot police, David Bordas, are also being investigated.
Just last week Human Right Watch citicised the Spanish Police over what they deemed to be "excessive force" in dealing with the situation.