Ryanair CEO : Spanair collapse 'good for Spanish tourism'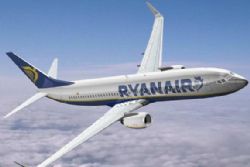 Michael O'Leary has spoke of last week's collapse of Spanair as being "good news for tourism and employment in Spain," because it will allow the arrival of new airlines to fill the void left in the market, and increase traffic by offering lower rates and a more efficient service.
The Ryanair CEO was speaking at a press conference in Palma where he said how any airline like Spanair with high ticket prices can not survive, and doesn't deserve a place in the industry.
However, O'Leary also pointed the finger at AENA due to the escalating costs imposed on airlines, which were a factor in the closure of the airline. He went on to suggest how AENA should apply a different rate of charges for the summer and winter months to reflect the fluctuation in demand.
He went on to confirm how Ryanair is already in talks with the Balearic Government and Palma airport to agree on charges for the winter period, and also to agree on the exact definition of the winter period on the calendar.
O'Leary confirmed how the airline has 30 aircraft currently on order which should provide employment for up to 1'500 workers and has suggested that former Spanair employees could be accomodated. However, unlike Vueling ( based at Barcelona's El Prat airport, like Spanair ) Ryanair have proposed that all applicants will be treated equally and not be given preferential treatment.
Of the 30 aircraft on order, 16 have been assigned to Palma airport and will result in the creation of 800 positions later this year.