Aerocar awards ATC contract for Castellon airport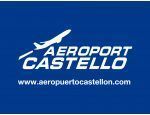 Juan Garcia Salas, the Director of Aerocar - the private owners of Castellon airport - announced earlier today that Saerco has been awarded the air traffic control contract at the airport.
Salas confirmed that the airport was in the process of making a number of changes to the infrastructure at the airport at the demand of the Aviation Safety Agency (EASA), however further changes may still be imposed.
EFSA officials are expected to make an inspection of airport facilities in the coming weeks.
With regards to the question of the future management of the airport, Salas said that AENA are among those considered, which would make the airport privately owned, but managed by a public company, as is the arrangement at Corvera airport.
Saerco is the first private Spanish company certified by the Aviation Safety Agency (EASA) to provide air traffic services according to the European Single Sky regulations and the Common Requirements.
The Director went on to acknowledge the airport's seemingly constant stream of criticism in the press, but said how many similar major infrastructure projects suffered similar setbacks, and that Aerocar were working hard to ensure that passengers would soon be arriving at the airport.