Spain's Popular profit slumps on property provisions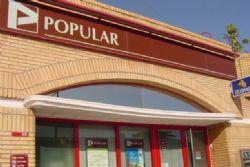 Banco Popular said profit fell by almost one fifth in 2011 as the Spanish bank made 1.7 billion euros of provisions against bad property loans.
The bank on Wednesday said profit fell 18.7% to 479.6 million euros , just above a consensus analyst forecast of 477 million euros.
Spanish banks have hundreds of billions of euros of unsaleable land and property and unrecoverable loans to bankrupt developers sitting on their balance sheets, four years after a housing and construction crash.
Popular is completing a merger with Banco Pastor and said on Tuesday it had achieved 75% backing from shareholders of the Galician bank for the move.
Spain's government is set to present a draft bank reform package on Friday that will likely push banks to increase provisions on their souring property assets by up to 50 billion euros. It also hopes to see more consolidation in the country's banking sector.
Some analysts say it will be hard for Spanish banks to resist some sort of external aid or state cash to bolster their finances.
According to broker JB Capital Markets, Popular holds around 5.7 billion euros in problematic property loans and would need to find extra funds of 2.9 billion euros if the government insists on new capital levels to cover losses.
On Tuesday Santander, the euro zone's largest bank, reported a fall in net profit last year of 35% as it made a 3.2 billion provision against toxic Spanish property assets.