Ryanair confirm cut flights at Alicante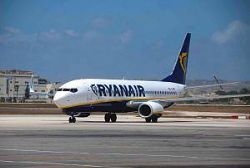 Ryanair yesterday confirmed their earlier threats to cut flights to Alicante's El Altet airport by 300 flights per week.
The decision follows the final decision of the Judge of the Provincial Court in Elche last week, which held that the airline must use airbridges to dismbark all passengers at the airport, and is expected to result in the loss of some 1.5 million passengers over the summer.
Despite AENA predicting that the capacity left by the abandoned flights would be taken up by other airlines this has still yet to happen.
Four of Ryanair's aircraft will be transfered from Alicante to Palma, which will soon commence operations as a hub airport for the airline.
Routes cut from Summer 2012 : Bratislava; Brno; Doncaster; Fez; Gdansk; Humberside; London; Madrid; Magdeburg; Marrakesh; Palma; Pisa; Poznan; Santande; Seville; Valladolid; Venice and Zaragoza.
Routes reduced from Summer 2012 : Baden; Bergamo; Bournemouth; Bristol; Dusseldorf; Edinburgh; Eindhoven; Frankfurt; Glasgow; Gothenburg; Knock; Kralivia; Leeds-Bradford; Liverpool; London; Maastricht; Manchester; Oslo and Stockholm.