Final agreement between San Javier and Corvera expected in next few weeks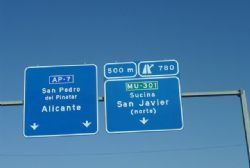 Murcia's Regional Minister for Public Works, Antonio Sevilla, has commented how he expects that a final agreement will be found between all parties concerned in the transfer of operations at San Javier airport to Corvera.
The Minister went on to say how President Valcarcel has also met with the National Minister of Developemnet, Ana Pastor, and Mariano Rajoy, with all parties agreeing on the importance of bringing plans for the transfer to a conclusion.
The regional government, together with the owners of the airport, Aeromur, are hoping to set a date as soon as possible to enable them to finalise agreements with airlines hoping to fly to the new airport.
Ryanair is expected to have a significant presence at Corvera, and today news that they will cut some 300 flights per week at neighbouring Alicante airport has fuelled speculation that the airline may be prompted to add more routes to Corvera than they initially intended.