Castellon airport "will take longer to bear fruit than wanted"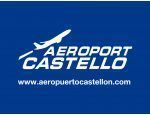 The PP spokesman in the regional parliament of Valencia, Rafael Blasco, has admitted that Castellón airport, which opened in March last year but has still not been made operational : "It will take longer to bear fruit than we wanted."
In a statement, Blasco criticised the PSPV opposition party for their "constant allusions and attacks" on the airport, which he believes is detrimental to the promotion of Castellon as a tourist destination as well as to the airport itself.
Blasco went on to say how the infrastructure at Castellon airport is complete, and defended the financial sum already spent on developing the facility by the Generalitat of Valencia by saying that the amount was considerably less than the sum spent by the Coalition Government of Catalonia on Spanair. Spanair recently collapsed due to the Regional Government of Catalonia deciding that it was no longer viable for them to subsidise the airline.
The Spokesman also criticised the double standards of the Socialists for their attacks on the project following their years of encouragement of the idea of having an airport at Castellon.
Interestingly, Blasco did not rule out the possibility of some kind of merger at the airport, which draws comparisons with Corvera airport in Murcia, which, like Castellon is Privately owned, but managed and operated by the Spanish Airports Authority (AENA).