Mobility assistance service at Madrid-Barajas takes off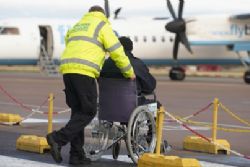 A Statement from AENA yesterday announced how almost 270,000 passengers with reduced mobility used the 'No Barriers' service at Madrid-Barajas airport last year, and an increase of 3.85% on 2010.
Passengers requiring the service have 26 assistance points they can go to, seven of which are equipped with the appropriate members of staff and equipment, both inside the terminal buildings and in the grounds of the airport.
This service is provided at all AENA airports, and has received the "Citizenship Award for Best Practices in Public Services ', awarded by the Ministry of Territorial Policy and Public Administration, within the' Quality Awards and Innovation in Public Management 2010 '.
The service previously received the 'Telefónica Ability Award', in the category of 'Best Public Institution in the Integration of Disability', and the "Universal Accessibility" award by the Spanish Committee Representatives of People with Disabilities.
The most recent Quality Survey conducted by AENA from passengers using the service shows 93% rating the Madrid airport service "good" or "very good", with the average mark being 4.3 out of 5.0.
'No Barriers' is a free service offered by the Madrid-Barajas Airport and can be requested 48 hours in advance by phoning 902 404 704, or by clicking either the AENA website, or through the airline you are travelling with.