Partnership formed to promote Castellon airport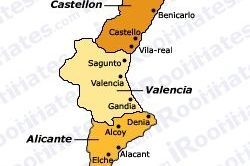 The Tourist board for the Province of Castellón will form a partnership with the Provincial Association of Construction Companies (APECC) in order to attract foreign investment to develop the 12 golf courses and 40,000 homes which have been proposed as a project for some time now.
The key objective here being to raise the profile of real estate in the province to foreigners, thereby promoting useage of the troubled airport at Vilanova d'Alcolea which, despite being open for a year, has still not seen it's first flight.
The head of the tourist board for the province, Virginia Ochoa, made the announcement at a conference yesterday on the future of tourism in Castellon. He defended the infrastructure of the area which he referred to as "basic" but said how an operational airport was also essential in attracting outside investment.
Ochoa said how it was essential to seek investment from abroad as Spanish investors are simply not spending.
The board will attend the World Fair of real estate (MIPIM) to be held in Cannes next month to promote the project.
Castellon Airport was initailly planned some ten years ago as essential infrastructure for the planned construction of about 40,000 homes and 12 golf courses in the area, however, the airport has arrived before the intended projects could be started, and as such before the arrival of any tourists.
Both Ochoa and Juan Garcia Salas, the Director of Castellon airport, have previously spoken of both projects relying on each for their success, but that one project had to be completed in order to make the other viable.
Virginia Ochoa also confirmed that with the province having so few hotel beds (about 24,000) there was a "significant lack of hotel beds" and that private interests would be sought to build new hotels to help attract tourists to the airport.