Questions about Castellon airport referred to Central Govt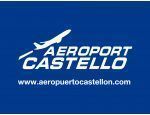 The Coalition Compromís spokesman to congress, Joan Baldoví, yesterday presented a range of questions to the central government in order to explain what permits and certificates are still required by Castellón airport in order that it can become operational.
Specifically, Baldoví asked to know why, in August 2011 it was made known that the concession holder at the airport, Aerocas, still required five seperate permits, and it is still unclear whether any of these have been, or are likely to be awarded.
Elsewhere, Marina Albiol, a member of the Valencia Parliament and long time opponent and critic of Carlos Fabra, also told the regional Valencian parliament about her concern about the airport. Specifically, Albiol wanted to know what the immediate future of the airport was, and how much compensation was likely to be paid by Airport Concessions by the end of the contract to manage the infrastructure.
She complained that she, like many other in the province, knew nothing more about Castellon airport other than it has now been open for almost one year, and yet no arrivals have yet been scheduled.