FACUA denounce Ryanair for 'Fraud'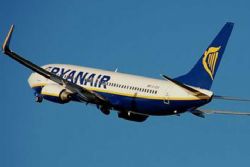 The FACUA consumers association has accused Ryanair of fraudulent practice in their sales of airline tickets that can often end up being more than five-times the advertised price once all fees, charges and taxes have been applied.
Earlier today the association spokesman, Ruben Sanchez, referred to the situation of offering a ticket for 12 Euros, but it costing the consumer 69 Euros - possibly even more depending on the method of payment - as being "Illegal".
The group has therefore asked the government to act against the alleged fraud and seek to put an end to such practices.
Sanchez also criticised the Chairman of Ryanair, Micheal O'Leary, specifically his recent insult to the former employees of collapsed airline, Spanair. Earlier this week O'Leary referred to Spanair protestors at his arrival at Bibao airport as the "Ryanair Fanclub", and thanked them for the publicity that they had provided him with on his press conference to announce that Ryanair would take over a number of routes abandoned by the collapsed airline.