Spanish Airport Network Sustains 16pct of Spain GDP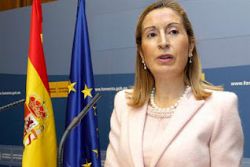 The Minister of Development, Ana Pastor, told the Committee of Public Works today that AENA's debt currently totaled €14.942 million, of which €12.359 million are long term and short-term €2.583 million, representing almost three times the amount in 2004, when the PP were last in government.
Pastor referred to AENA as being "seriously damaged" by debt and its debt ratio has tripled from 165% in 2005 to 423% at present, representing 21 times the gross operating profit (EBITDA) .
The Minister said how AENA is responsible for 7% of GDP, and sustains some 140,000 direct jobs and over 555,000 indirect - 2% of the workforce of the country, and that the related businesses that they in turn employ (construction, operation of infrastructure transport and housing) account for 16% of the total GDP.
Significantly, she also spoke of how Spain needed to enter a new phase, whereby empty passenger terminals were no longer allowed.
Pastor also told the Committee that her department will present a report to the Cabinet in July, for the Plan of Infrastructure, Transport and Housing (PITVI) that will encompass her plans for the AENA network until 2024.