Corvera : A reminder of a few facts and figures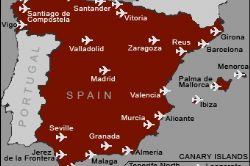 When the new airport at Corvera opens in late June / early July it will have cost the concession holder, Aeromur, 260 Million Euros.
Aeromur is 60% owned by Sacyr , with the remaining 40% being financed by CAM, Caja Murcia, INOCSA, Montisa, Grupo Fuertes y Cementos La Cruz who each take a 6.7% stake.
Projections are that the airport, which will be managed and operated by the Spanish Airports Authority - AENA - will accomodate 1.5 Million passengers per year via 15'000 domestic and international flights.
However, the new airport is situated just 100km from Alicante's El Altet airport and 185km from Almeria, which have both spent 670 Million Euros and 37 Million Euros respectively over the course of the last 2 years in improving their infrastructure to accomodate a higher number of passengers.
Even San Javier airport, located just 30km miles away, spent 67 Million Euros less than 1 year ago in building a new second runway. Even though Corvera airport is planned to open before the summer season, a precise date for the removal of civillian flights from San Javier has still not been given.