Government confirms Castellon airport too short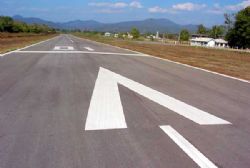 Yesterday the Central Government confirmed that the runway at Castellón airport needs to be extended in order to satisfy requirements of the Aviation Safety Agency (EASA). This will require further work, which will be left to Valencia Airport Concessions, the private company who commissioned the airport, to arrange.
The real question is who will actually end up paying for the required work, which has been placed at 80 Million Euros - Valencia Airport Concessions, Aerocas, or the Central Government (and therefore public money).
The runway requires modification in order to accommodate the larger aircraft being used by most major airlines in allowing them to land, turn around and taxi safely. A number of Engineers had previously argued that the dimensions of the existing runway were insufficient, which raised enough doubts to see the matter referred to the EASA.
A team of Engineers and Surveyors are expected to visit Castellon airport later this month to assess the full extent of the work required. Critics are sure to argue that will result in further delays before the airport can become fully operational.